Vintage Vibe Blog Tour

Today is my stop on the Vintage Vibe Tour–such a beautiful book!  I was excited when Amber, the mastermind behind the book Vintage Vibe  asked me to participate.
I am such a sucker for beautiful photography in quilt books.  And this book not only has beautiful photography–a lot of great outdoor shots–but it has great quilts also.
Amber had each blog tour participant select a project from the book to share.  And I chose, Playing Favorites.  I've been on a churn dash kick lately(haven't we all!) and this quilt is such a fun modern take on a traditional block…which I love!
And I especially love the story behind this quilt design–in Amber's words: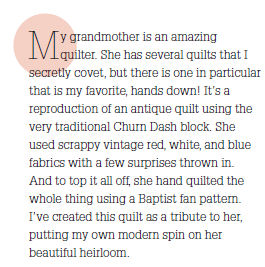 Amber's Churn Dash is a lot bigger than you might think–over sized blocks along with the borders bring it to a roomy 73 1/2″ square.
A lot of bang for your buck.
Amber's quilt reminded me that I have been meaning to work on some mini Churn Dash blocks–they've been on my to do list for awhile and "forced" me to cut into some of my Daysail fabrics.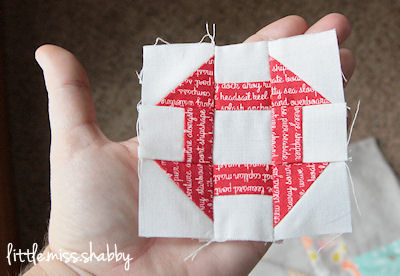 You'll be seeing more of these little guys!
And, now one last photo from the book–this quilt is Vintage Vibe.  And it might be my favorite picture in the book–but really, the photography and quilts are all just beautiful!!  Congratulations on a wonderful book Amber!
I hope you all will check out the rest of the stops on the blog tour–I hear there are some giveaways along the way!:
Have a wonderful Thursday!