Playful Petals Blog Tour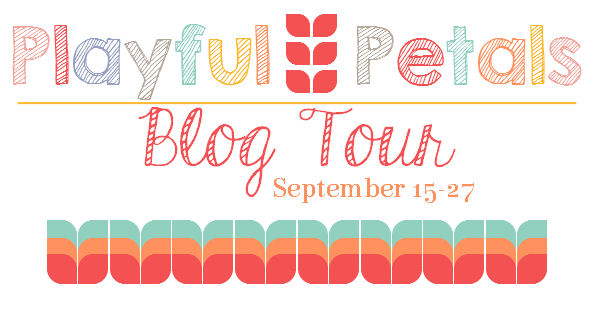 Today kicks off the Playful Petals Blog Tour!  I'm so excited to for the amazing line-up of bloggers participating in the tour!
~Break for Weekend~
~ The Blog tour will end with a wonderful giveaway  you won't want to miss back here on my blog ~
Today, Amy, of Stitchery Dickery Dock will be sharing about Playful Petals over on her blog.  I really hoped Amy would join my blog tour after I ran across this amazing quilt she made.
Each day of the tour I will also be sharing quilts from my book:
Today, I thought I would start things off with the cover quilt, Rainbow Petals.
Rainbow Petals is designed to use a layer cake or 1/8 yd. cuts of fabric.  I love it in all of it's scrappy goodness!–The original quilt was made using Vanessa Christenson's line of fabric Simpy Color with just a couple Sew Stitchy prints by Aneela Hoey thrown in.
My mom hand quilted Rainbow Petals for me using 8 wt. Perle Cotton in a rainbow of colors.  The accompanying Rainbow Petals Pillow is made using a few sweet, Japanese prints.  The pillows in the book are a wonderful way to use up some scraps.
Be sure to stop back tomorrow for some more quilty fun!  I would love if you would ask your applique questions in the comments so I can take time to answer them during the blog tour.  And remember, I'll also be sharing 2 free patterns with you and the blog tour will be ending with a wonderful giveaway. 🙂