WIP Wednesday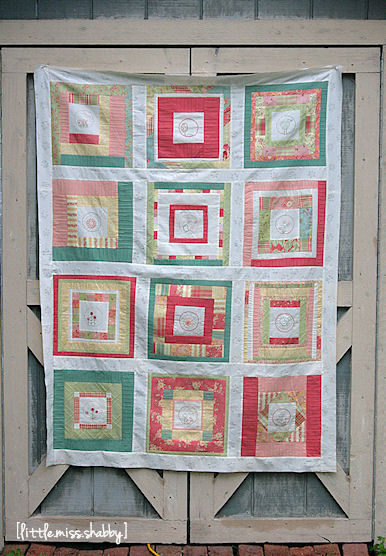 Can't believe we are back to Wednesday already!–Man that week flew by.  It's unfortunate that time picks up pace as the summer nears an end. =)  I checked my Stitcheries quilt top off my WIP list.
This is my favorite block in the whole quilt: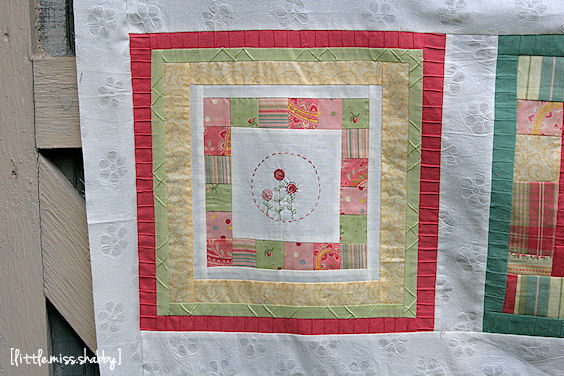 For some reason, I opted to do all of my little stitcheries on muslin.  This is not the same decision I would make if I were making it again!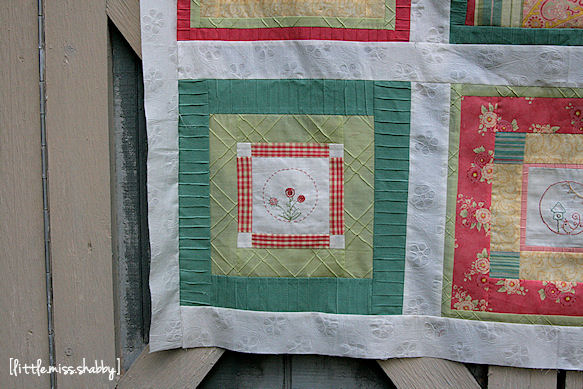 In keeping with that, and against my better judgement, the sashing is also a muslin–albeit cuter than your average muslin.  I picked it up at one of my LQS's several years ago and it has a flower print sort of "stamped' into it if that makes sense.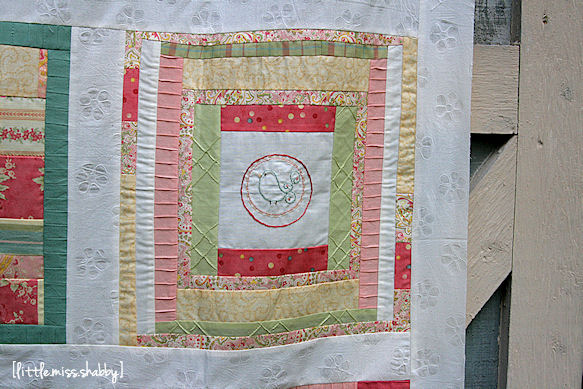 I may never be able to wash this quilt–none of the fabrics are prewashed and I'm not sure how it will hold up…and the shrinkage wouldn't be a good thing.  But, aesthetically, I think I made the right decision.  The little flowers in there are pretty cute!
Happy to check this one off my list!  However, now the problem is the overflowing stack of quilt tops–machine quilter I am not! =)
In the upcoming week these are my goals:
Add border to the Metro Rings Quilt–I hope to share this one with you tomorrow or Friday.

Finish next Quilty Stitches block (the last one!)
Bind my Yoder quilt.
I also have another project I wouldn't mind working on but, with Back to School next week my schedule may get a bit full!