Quilty Stitches Block 15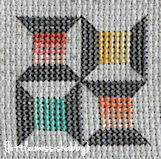 A quick google search brings up a myriad of "Spools" quilts in all shapes, designs and colors.  I think it is safe to say that the Spool Quilt block is a favorite of many quilters!
So it's only fair that Block 15 (our 2nd to last block!) of Quilty Stitches is a Spool block.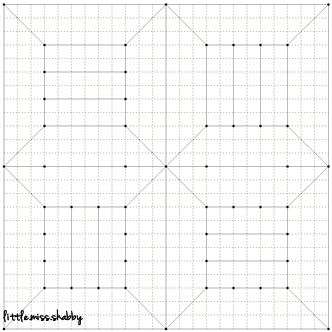 Quilty Stitches Block 15 PDF Pattern
For my Block I used the following colors:
Corals: DMC 351, Sullivan's 45075, Sullivan's 45077
Yellows: DMC 743, DMC 744, DMC 745
Aquas: DMC 958, Sullivan's 45293, Sullivan's 45313
Oranges: Sullivan's 45169, Sullivan's 45422, Sullivan's 45283
Grey: Sullivan's 45121
Are you all staying caught up?–Way to go if you have!–It's hard to stay on task during the summer months!(and certainly not necessary to do so when things like swimming, biking, canoeing, picnics etc. are all calling your name!)
Happy Stitching!