Free Pattern Friday
Hey all!–hope your week is finishing off with a bang.  There have been a number of quilt patterns I have done recently that I haven't yet shared with you and today is the day!
I know some of you are gearing up for some Christmas sewing–or at least making a vain attempt to get things in gear to begin Christmas sewing(as is usually the case for me) so I'm kicking off with a fun Christmas wall hanging.
This is a fun, free pattern I designed for P&B Textiles showcasing the Merriment line of fabric: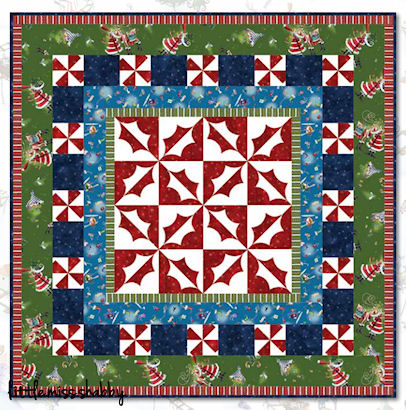 It finishes at 50″ x 50″ and you can find the free pattern here.
And since I always enjoy seeing patterns made up in various fabric collections, I am going to be sharing an alternate version of all of the patterns I am sharing with you today.
My Holly Days quilt in 25th and Pine by Basic Grey for Moda Fabrics: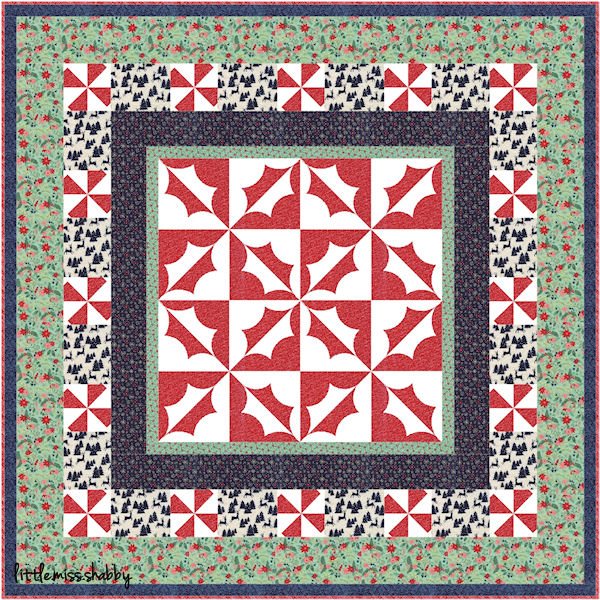 Next up is my Maple Harvest table runner for P&B Textiles featuring Fall Bounty Fabrics: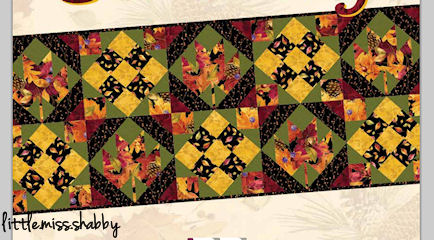 It finishes at 18″ x 45″ and you can find the free pattern here.
Pictured below in Autumn Woods by Kate & Birdie for Moda Fabrics.  I love this line of fabric!–Really any line that Kate & Birdie make is stellar. =)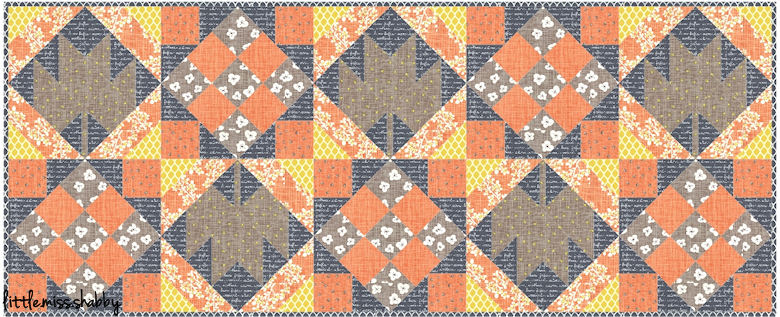 Jelly Beans is a super fun quilt that I designed for P&B Textiles showcasing their Zenith line of fabric.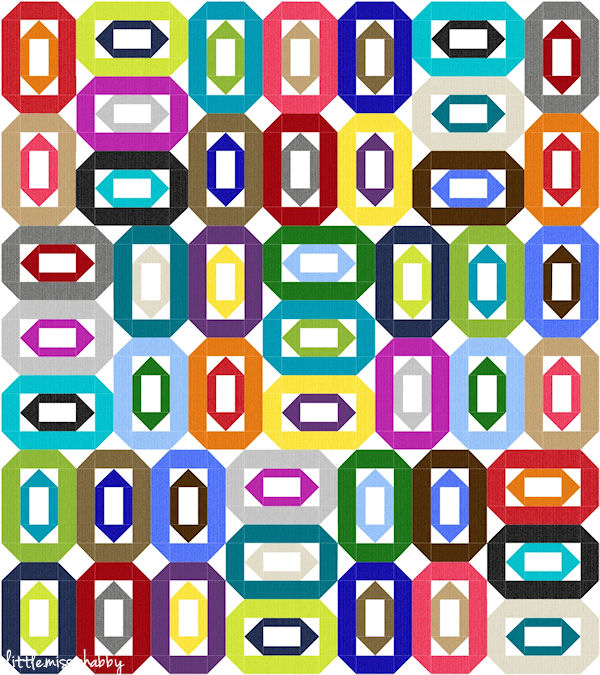 You might remember this quilt from my Quilt Market post: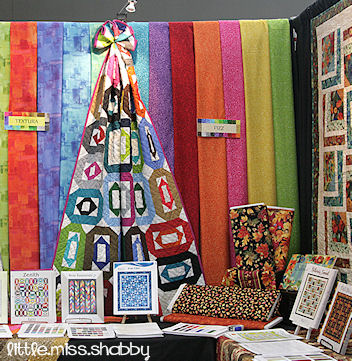 Jelly Beans finishes at 64″ x 72″ and is a showstopper as a solids quilt.  You can find the free quilt pattern here.  I feel that this quilt is going to be most striking in solids/near solids so I chose not to share an alternate version.  If you make a Jelly Beans quilt in prints I would love to see it!
And lastly is my Blooming Star Quilt I designed for RJR Fabrics.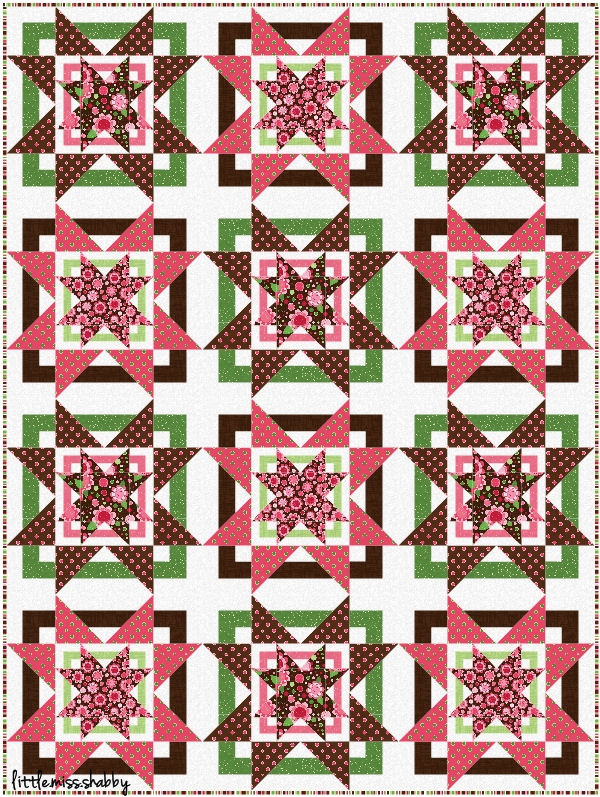 I designed this quilt to showcase Patrick Lose's line of fabric Lily's Garden which will be available in September.  This line of fabric is available in two different colorways, a Blossom colorway(pictured above) and a Spice colorway (pictured below).  The quilt below was the 2nd quilt that I had on display at Spring Quilt Market.  It finishes at 72″ x 96″ and you can find the free pattern here.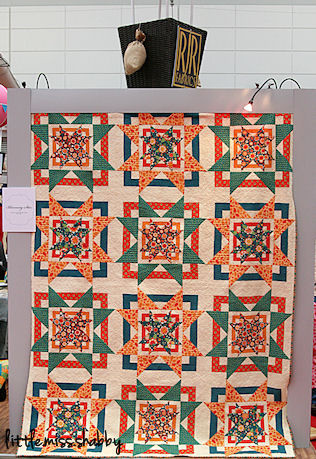 I have been anxious to see how this quilt would look made up in different fabrics.  I love it in Miss Kate by Bonnie & Camille for Moda Fabrics.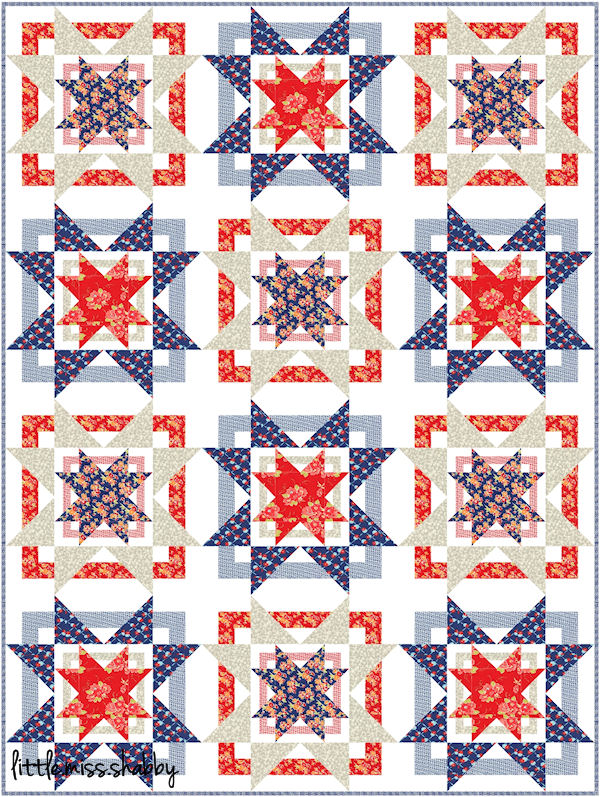 I saved my Blooming Star quilt for last–it's my favorite of the ones I have designed for fabric companies lately!  It's an easy quilt to make and you get a lot of bang for your buck. =)
Have a wonderful weekend!–I'll be back on Monday with the next Quilty Stitches block.