Quilty Stitches Block #3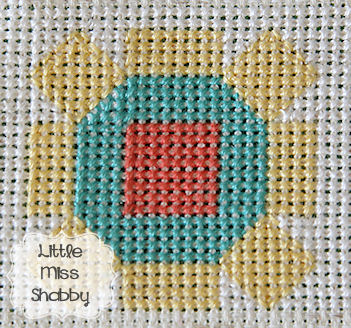 Block #3 in our Quilty Stitches Sampler is the Rolling Stone block.  You've probably seen this quilt block popping up in a variety of places.  I knew it had become a popular block, but I didn't realize exactly how popular until I started poking around a little bit.  You will find Rolling Stone quilt blocks or a variation of one in all of the following patterns:
Fig Tree Quilts "Wheels" Pattern (Scroll Down)
Thimbleblossoms "Puddling Jumping" Pattern
Cluck Cluck Sew "Spin Cycle" Pattern
Red Pepper Quilts "Labrynth" Pattern
And this is just a brief list of some of the places this block has been showing up lately.  If you feel like you've been seeing it around a lot–you probably have! =)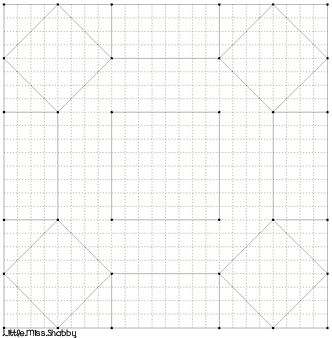 Quilty Stitches Block 3 PDF Pattern
I used DMC 351(Coral), DMC 958(Aqua), DMC 744(Yellow)
And all 3 blocks together so far:

Hope you are all enjoying stitching along!
Use #quiltystitches to share your blocks on IG or share over on flickr.