Quilty Stitches Sampler Along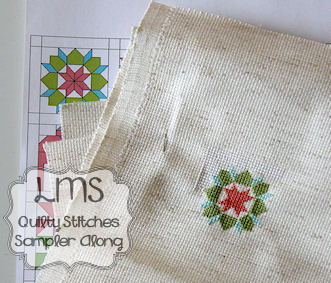 Are you guys ready for some stitchy fun?  I am getting ready to kick off a fun little cross stitch sampler along! =)  Are you interested in joining in?
I had forgotten how enjoyable cross stitch can be!  I really need to share my circa 1990's Thomas Kinkaid cross stitch I made during the early years of my marriage–hundreds of french knots…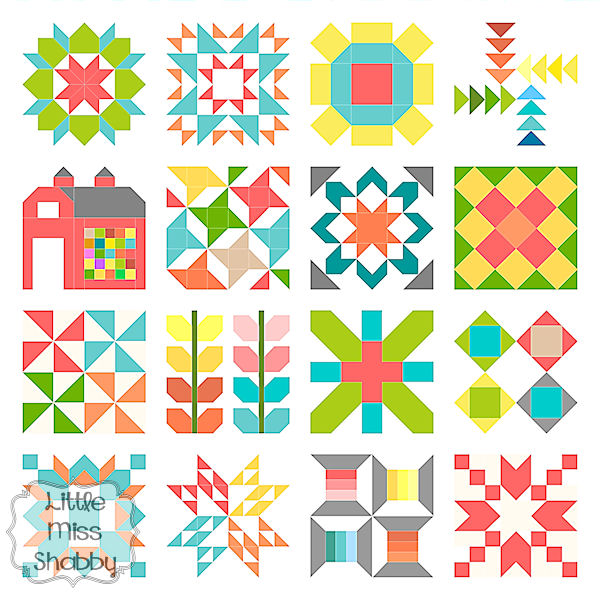 This little cross stitch quilt sampler includes some popular blocks I'm sure you've become familiar with over the last couple years as well as some new favorites–love Lori Holt's Barn block in there.  Of course I had to start off with the Swoon block!–Still adding in some of the white stitching.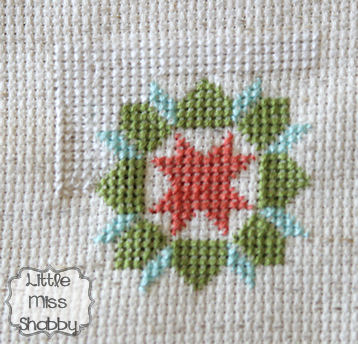 Each little "quilt block" finishes at about 1 3/4″ big–they are so cute!
I hope to kick off next week with the pattern for the first block–and I plan to post a new block every two weeks.  There are a total of 16 blocks.
If you are interested in joining in here's what you will need: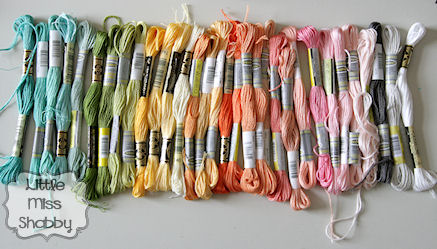 Embroidery Floss–I chose a fun palette of aquas/greens/yellows/peaches/corals/pinks/greys.  Some are DMC and some are Sullivans.  I chose them as I would have when picking solids for a quilt.  Make sure that you have a nice graduation of colors–you will need them for the Flying Geese block and the Spool Block.  Since threads are pretty inexpensive, I chose a bunch of them so I could pick and choose as I went along.
Aida Cloth–I am using a 15″ x 18″ piece of 14 ct. oatmeal colored aida cloth.  Using this count Aida cloth will result in an 8-9 inch sampler.
Needles–I'm using size 24 tapestry needles
Embroidery Hoop
Fray Check–it's a good idea to fray check all of the edges of the Aida cloth prior to stitching
And there you have it!  Are you in?