Quilty Stitches Sampler Along Block #1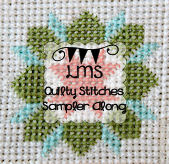 I'm so excited to have so many of you stitches along with Quilty Stitches! =)  Today we are going to be kicking off with Block #1.  If you missed out on the intro. post or the thread colors post, you can find them here & here.
First off, below you'll find the "Quilty Stitches" Layout in PDF format so you can easily print it out.  This includes the stitching diagram for all of the "borders/sashing".  Each square denotes one stitch.  I am doing all of this in white thread.  If you want to go ahead and stitch all of this ahead of time you certainly could.  Then you could fill in the blank holes with the blocks as I introduce them.
 If we have any cross stitching newbies stitching along and you are unsure about how to cross stitch, first off it's so easy!  Secondly, if you pop onto youtube and search for Cross Stitch you will find a lot of great info. about how to stitch.
We will be using a regular cross stitch as well as a 1/4 cross stitch for our blocks.
Our sampler is 116 stitches by 116 stitches.  If you are using 14 count aida cloth like I am your sampler will be just under 10″ square.  To find my starting point on my cloth, I folded my aida cloth vertically in half and finger pressed a small crease in the center and then did the same horizontally.  I measured over 5″ to the left and then up 5″ to find my starting point in the upper left corner.  You will also want to make sure to either fray check the edges of your aida cloth before starting.  If you don't have any on hand you can run masking tape around all the edges of your aida cloth.
And now onto Block #1 the "Swoon" block: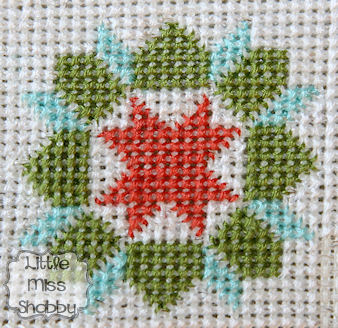 I've decided to offer the pattern for you in a "color your own" type of format.  I think it's such a handy way to offer the pattern.  Each square denotes one cross stitch.  Any square that has a line diagonally through it would be comprised of (2) 1/4 stitches.  I am opting not to backstitch but you certainly could if you wanted to!
 Print out the pattern, color it in with your desired colors and you're ready to stitch.  Not happy with your color choices?–print a 2nd and try again.  For my Swoon Block I used DMC 351(Coral) DMC 470(Green), DMC 964(Aqua).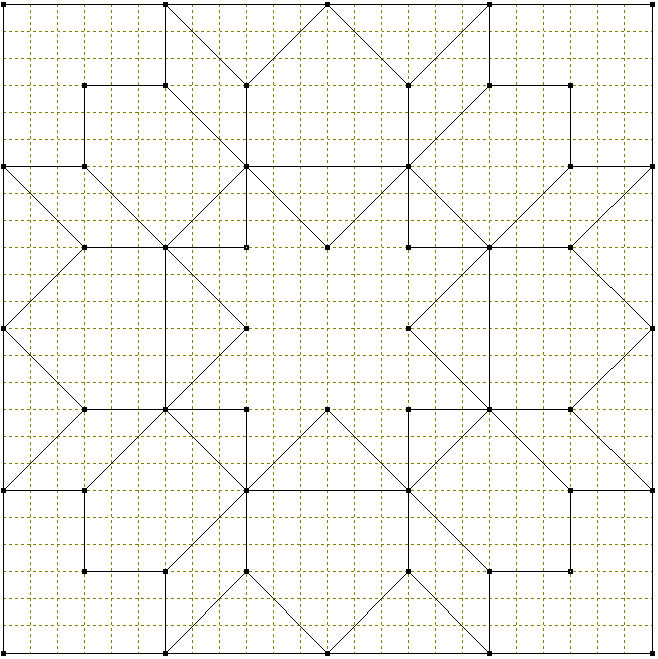 And here's the pattern ready to print out in handy pdf format:
If you are stitching along, you can grab my button from the sidebar on the right for your blog to help spread the word.  Also if you are an IG'er we'll be using #quiltystitches to share our work.  If you are on flickr, I'd love if you'd share over in the LMS group.
If I've forgotten to mention something or if you have questions please let me know!
Can't wait to see all of the Quilty Stitches samplers starting to pop up! =)