For this weeks row we will be making our last appliqued polka dot row.  Row #11 Details:
Fabrics:  1/4 yard Verve Violet Pure Elements by Art Gallery Fabrics & 1/3 yard of Moda Bella PFD White and 1/2 yard HeatnBond Lite.
From the White solid cut (3) 3 1/2″ x WOF strips, trim selvages and sew end to end, cut 1 strip 3 1/2″ x 96 1/2″
From here, I'm going to refer you to the directions for Row #3.  Make an identical row using the Verve Violet fabric.  Remember this handy tip:
When you are ready to iron the circles onto the white strip, place the long white strip directly over top and centered onto the pink polka dot row in your quilt top.  Then you can lay the purple circles in place without having to measure their placement & it will be identical to all the dotty rows.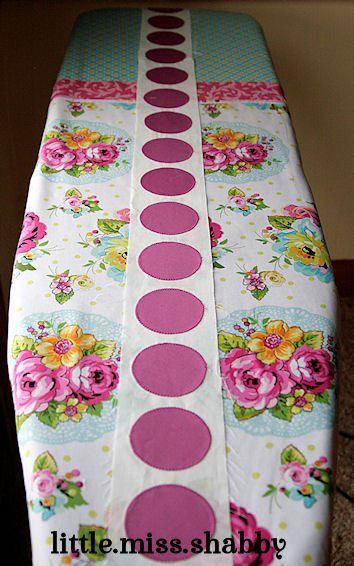 Sew the violet strip onto your Rainbow Rows quilt top.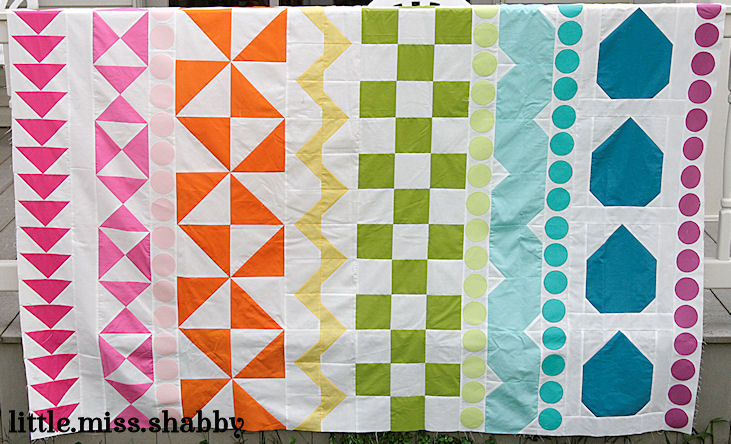 Next week we will complete our quilt top with one last dark purple row.  If you've been sewing along for the last 11 weeks you've now got a pretty cool quilt top!