My Little Sewer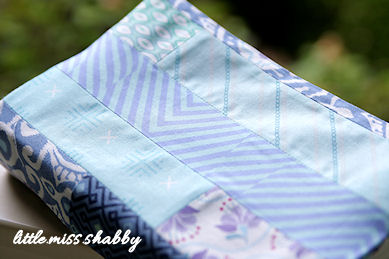 Did my title leave you wondering whether I was referring to needle and thread or flushing the toilet?  I have often wondered how two such very different words are spelled exactly the same and yet pronounced so differently with drastically different meanings.
In this case, it's the needle and thread kind. =)  After I finished up the Chevron Cover last week, Chloe decided she wanted a cover for her Bible also.  She had been digging around in my fabrics and picking and choosing as I was working on the Chevron cover so I wasn't surprised she now wanted one.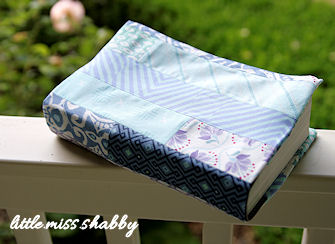 I had given this a little bit of thought and figured this was a sewing project, with the right pattern, that she could handle mostly on her own.  Chloe was very meticulous about her fabric choices–I was very careful not to influence her with my likes and dislikes.  This can be very hard to do as a mom!–The last time we worked on a sewing project together I couldn't wrap my head around some of her choices and I did a bit of steering.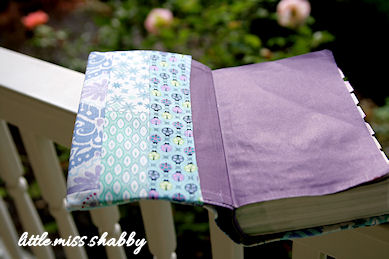 She started with a number of Kate Spain, Cuzco,  fabrics that she liked, then she added in some fabrics from Aneela Hoey's Sew Stitchy line of fabric.  She'd add fabrics in, take some out, add some others in.  She's got a great eye for color and the choices she was making were pretty much the same choices in fabrics that I would have made.  She finished off her fabric choices by adding in two fabrics from The Birds and the Bees by Tula Pink.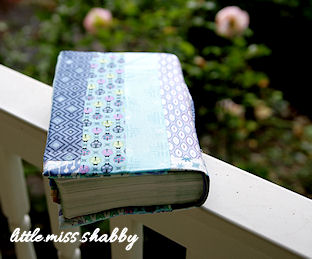 I cut the strips for her and did the ironing and she did all the sewing(every last stitch).  She did a great job–got good 1/4″ seam allowance practice –kept her fabrics lined up nicely & she's got a nifty little Bible cover to show for her work.