Did you guys get a lot of productive sewing done over the weekend?  For us, these last few weekends are going sooo fast before school starts.  I think both of the girls are getting ready to go back.  I have been spending the last week doing a little bit more refereeing between the two of them, so that's usually a sign that it's about time to go back to school.  And it certainly makes it easier for me to have to send them off when they haven't been behaving as well as they could!
This week we are ready for Row #4 of our Rainbow Rows quilt.  We are going to be making super quick pinwheel blocks.  For this row you will need:
2/3 yard of Burnt Orange  Pure Elements by Art Gallery Fabrics and 2/3 yard of Moda Bella PFD White
From both the Orange and the White cut 2 strips 9 3/4″ x WOF, subcut into 8 squares 9 3/4″ x 9 3/4″
Sewing Instructions
Begin by placing a white square and an orange square right sides together.  Sew 1/4″ around the perimeter of the squares.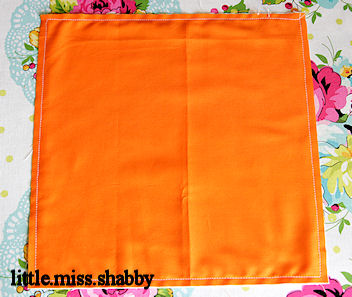 Cut diagonally thru the square twice.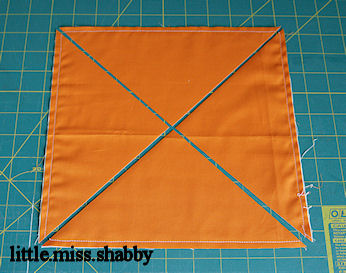 Open up the units and press to the orange fabric.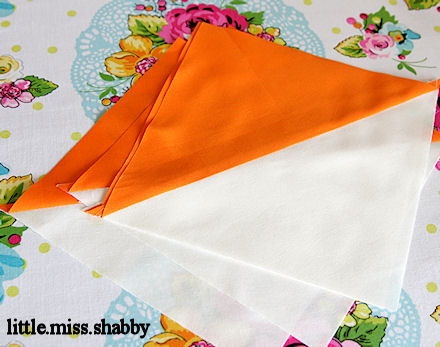 Now how cool of a method for HST's was that?–So speedy and quick!  You will want to trim each HST to 6 1/2″–they might not all need trimmed, mine were pretty much spot on.  Repeat using all of the orange and white 9 3/4″ squares.
Then, sew the HST's into a pinwheel block.  I totally forgot to take a picture of this step–but I think you probably all know how to sew a pinwheel block together!  The pinwheels will measure 12 1/2″.
Sew your pinwheel blocks together to make the next strip for our quilt.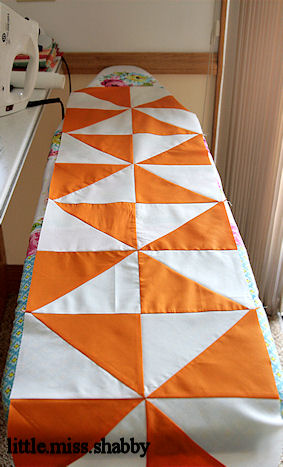 And here are the first 4 rows of Elonie's Rainbow Rows quilt.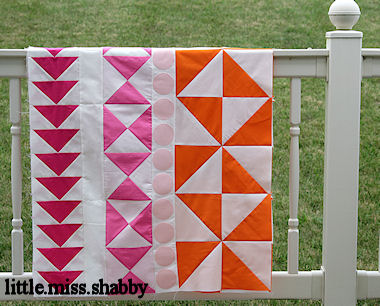 I love how quickly each row is coming together–it's definitely a quilt you can work on for just a little bit of time a week and you get great results!  Hope you are having fun with it!