Pure Elements
I am in the process of revamping my daughter Elonie's room.  Her room was previously our nursery–it was in neutrals as we didn't know with Chloe whether she was a boy or girl.  After Elonie transitioned out of the crib, we took down the wallpaper in her room which left the walls their original pale pink color(it's not really a good pale pink either).  My Grandma made Ryan and I a quilt in mauves/creams when we got married which is what Elonie has been using on her bed.
I decided it is long over due to give her a room of her own choosing.  When I asked her what she wanted her room to be, she responded with "a Rainbow room".  Well, color is right up my alley so I thought this was a great choice.  Enter Art Gallery Pure Elements–I wasn't feeling a primary rainbow so to me these colors are perfection.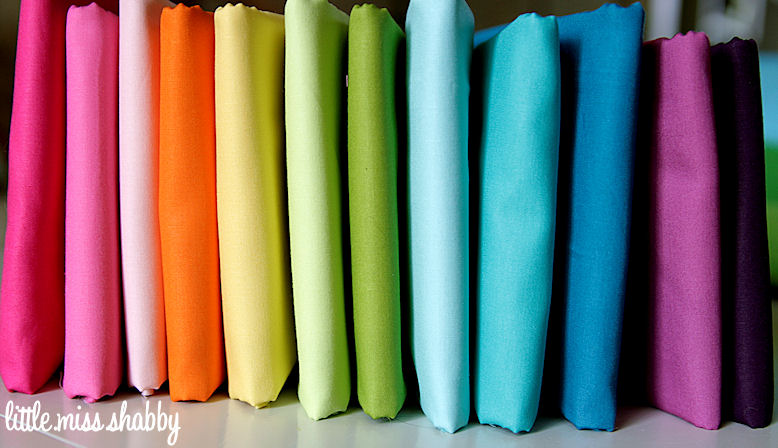 I've designed a modern Rainbow Rows Quilt for her bed using these fabrics that I'll be making for her.  Plus, it will be a great addition to her Princess and the Pea quilt.
I will be sharing the Rainbow Rows quilt instructions as I go so if you care to Row Along you can! =)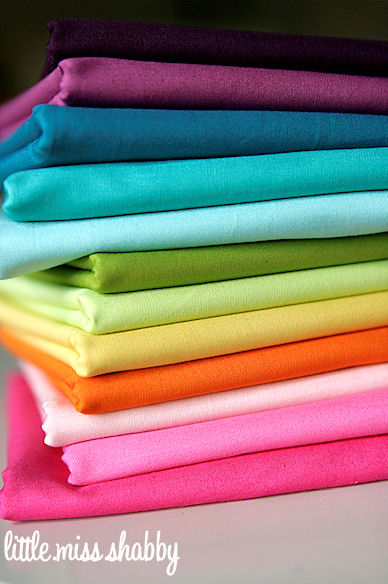 I purchased a 1/2 yard of each of these fabrics from Hawthorne Threads.  This is a pretty good start–row #1 takes 19.5″ of fabric but my cut of fabric was so generous it wasn't a problem.  The first green row(Dark Citron) takes 3/4 yd. of fabric.  The first blue row(fresh water) also takes 19.5″ of fabric–if your cut is generous 1/2 yd. will cover it or you can bump up this yardage to 5/8 yd.  The quilt will also take a fair amount of white–I'm not sure on the exact yardage as I'm doing a row at a time. Edit:  You will need 5 2/3 yard of white fabric for the background–I used Moda PFD White for my background fabric.
I also want to send out a huge thanks to all of you that responded to my last post.  We have a great group of ladies ready to go and will be starting soon once I get the group set up on flickr.  I'll be sure to share the group info. on my blog in case any of you care to follow along!