Moda Sweet Celebrations Blog Hop & Sweet Giveaway!

Hello, Hello!–Welcome to any new folks stopping by and thank you to my faithful readers for swinging by my stop on the Sweet Celebrations Blog Hop!
I have been just itching to share more new with you about the 2nd Moda Bake Shop book coming out very soon.  Last fall, Lissa Alexander, invited me to participate in the book and of course that was a huge "yes indeed" & now I can finally share a bit more about the book.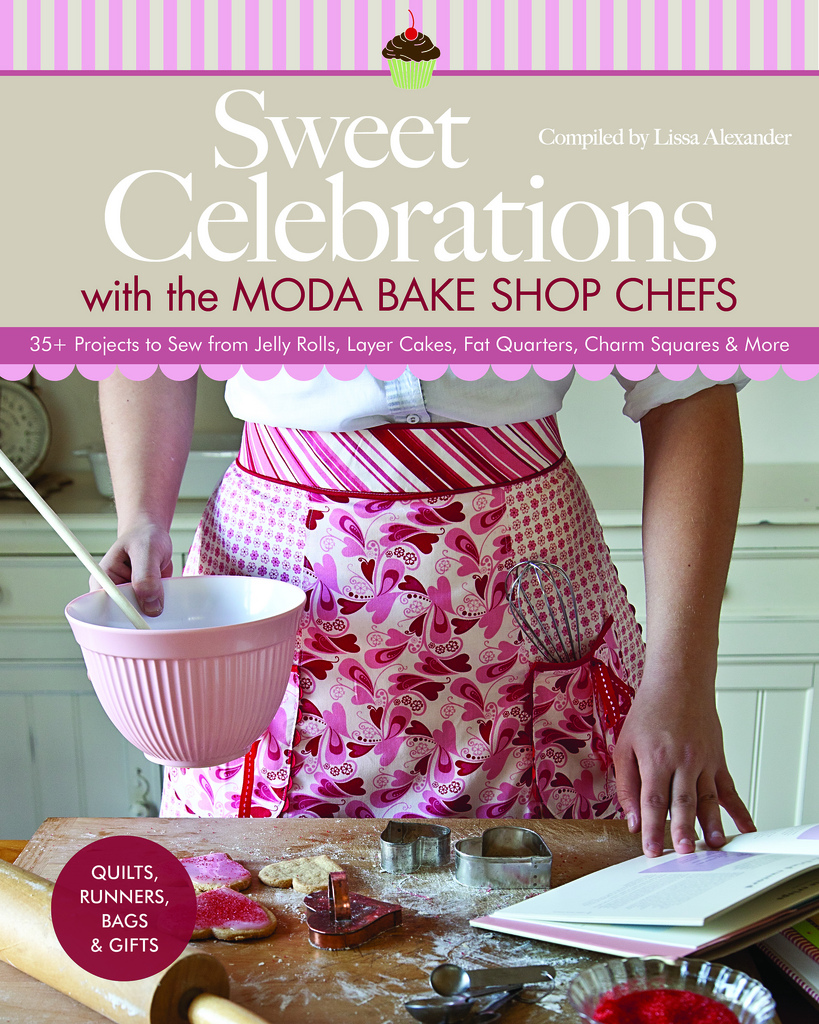 Sweet Celebrations is a precut friendly book with projects for all of your favorite holidays.  And today, my celebration for the blog hop is Wedding!  Which is perfect because I just happen to have several wedding projects in the Sweet Celebrations Book…here's a little peek: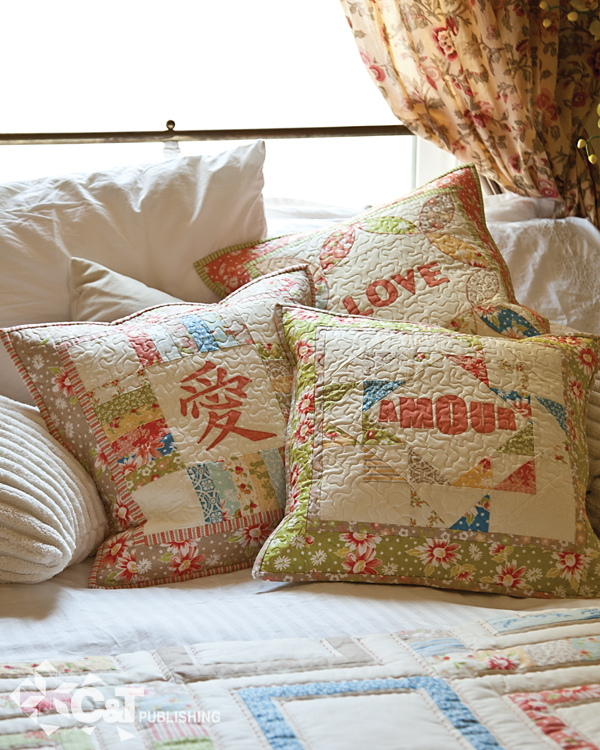 I made a trio of "Love" pillows & a Wedding quilt using a.m.a.z.ing fabrics from Fig Tree's, California Girl line of fabric.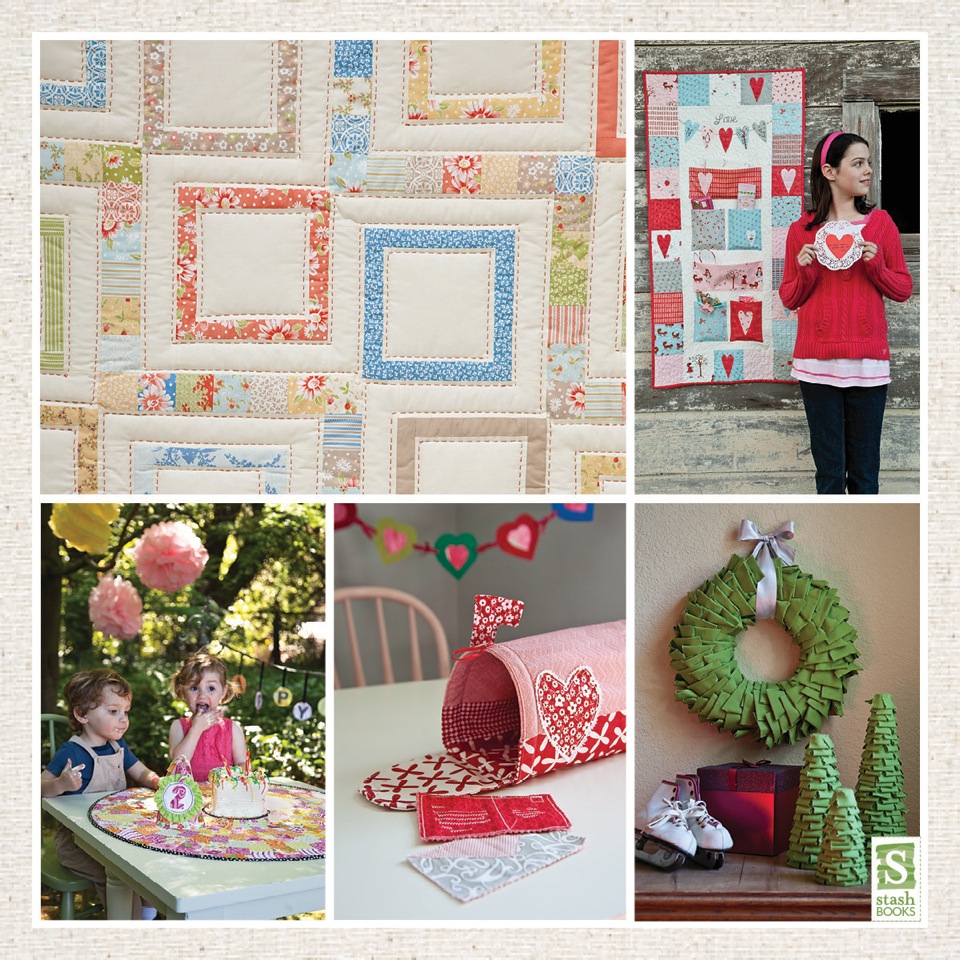 As you can see, tons of great projects!
So, for the blog hop, Moda decided to do a little Q & A with questions from Oda May for each of the chefs.  So, without further ado..a little bit more about Little Miss Shabby.
1.  Do you prefer to celebrate with cupcakes, cake pops, or just plain old cake?  Hmmm…I gotta be honest I am not much of a cake person in general.  I can totally pass up cake at any event with no problem.  Now, the hubster is a white cake guy all the way…and let me tell you, do not mess with the wedding cake…in his eyes it is one of the key elements to a great wedding.
2.  Do your pets/kids/spouse help or hinder your creative process? Help for sure!–well, maybe not so much the pets…although she does make for cute photo ops(can you spot her?):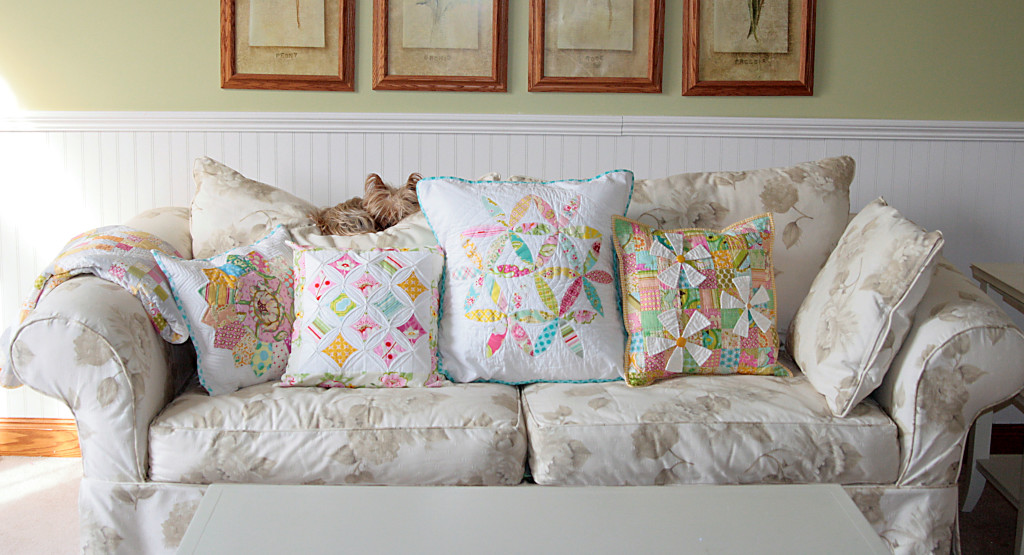 My daughter, Chloe was 100% the inspiration for this pillow: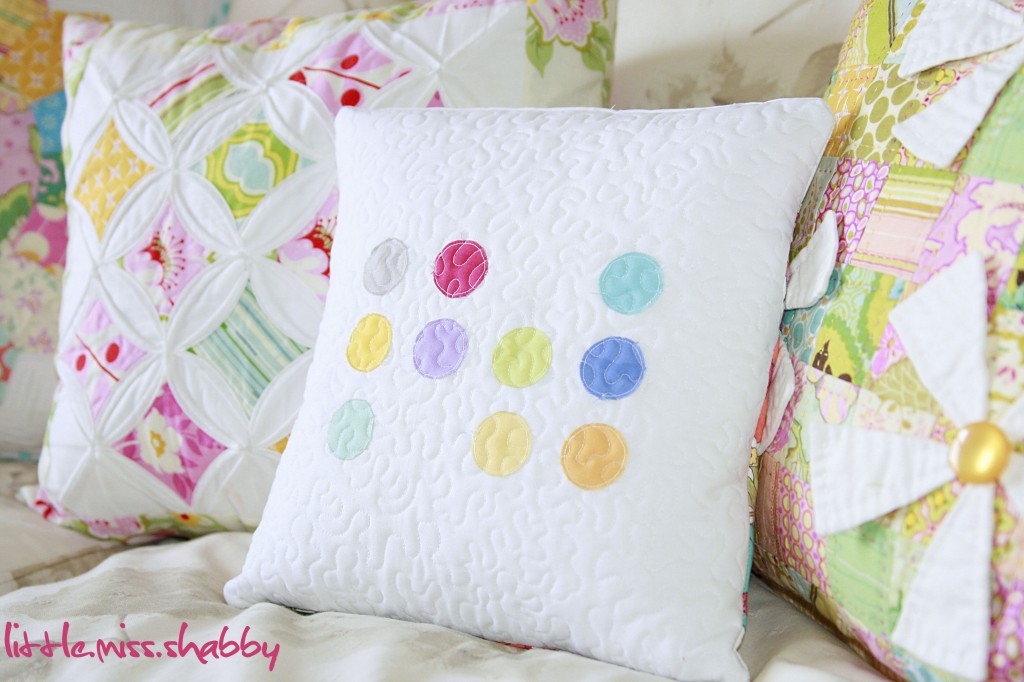 after she showed me this adorable little water color painting she made: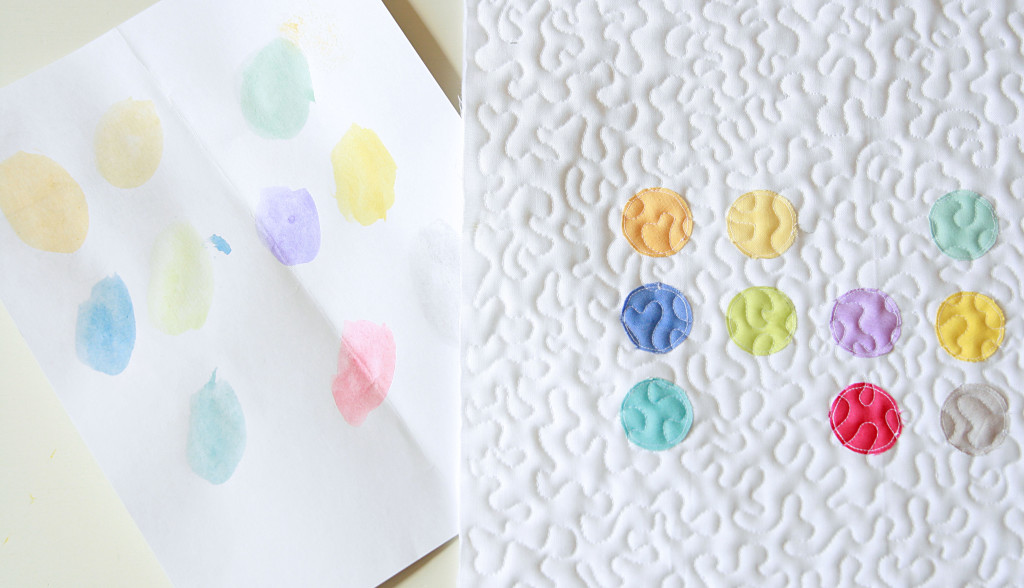 3.  If you could have a quilt shop spree, which items would you snag off the shelf?  I'm going to go with future items because it always seems like I am waiting on a fabric line to come out.  So, I would snag some Honey Honey by Kate Spain(I've seen a couple prints in person and they are fabulous!):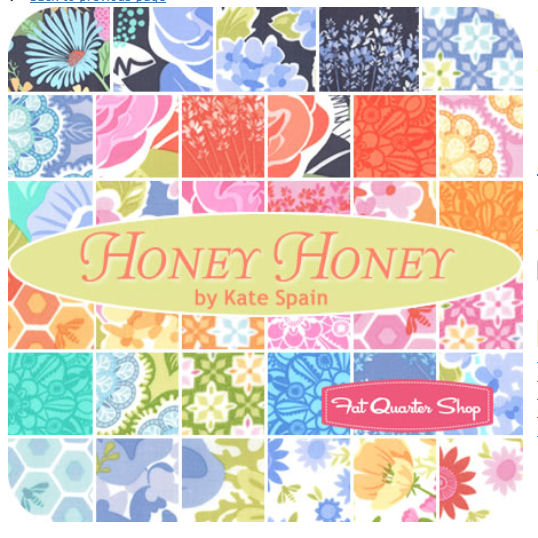 And, I'm also itching to see Bonnie & Camille's next line of fabric after Marmalade.  I actually had a dream about it last night(seriously, I'm not the only one who dreams about fabric, right?).  It was an aqua, brown, orange line–they were going a more boyish route.  And it had the same tree fabric in the line as Just Wing It by Momo for Moda.  Craziness, right!?!
4.  What have you gained from the online quilting/sewing world?  What a vibrant community first of all!  I think the main thing I have learned is to just go for it, dive in & have fun…you can do it.  Too often, I think we sell ourselves and our skills short.
5.  What is your favorite part of quilting – fabric selection, piecing, quilting, binding, and why?  Definitely fabric selection…I love putting together stacks of fabric…I mean, seriously…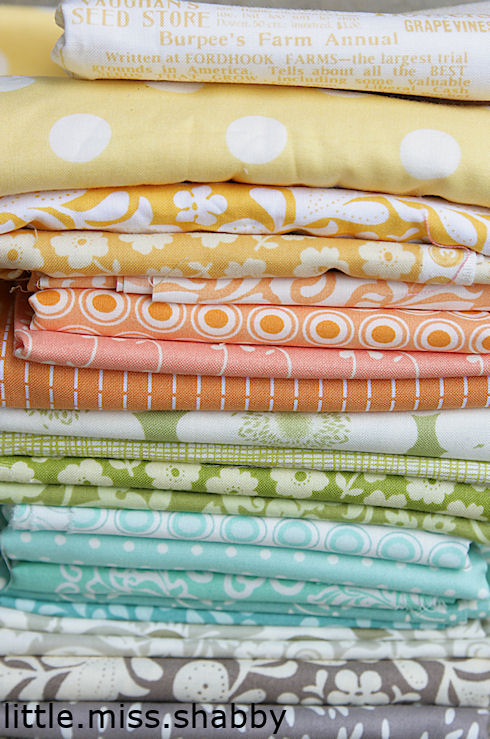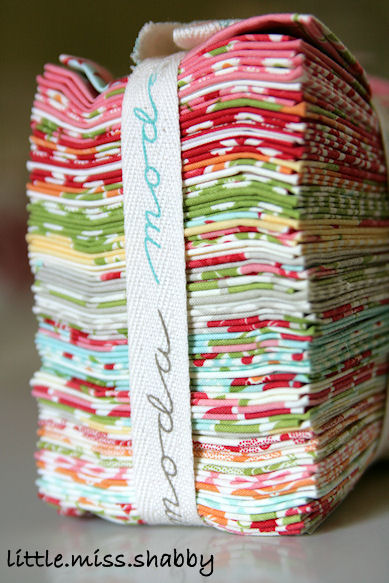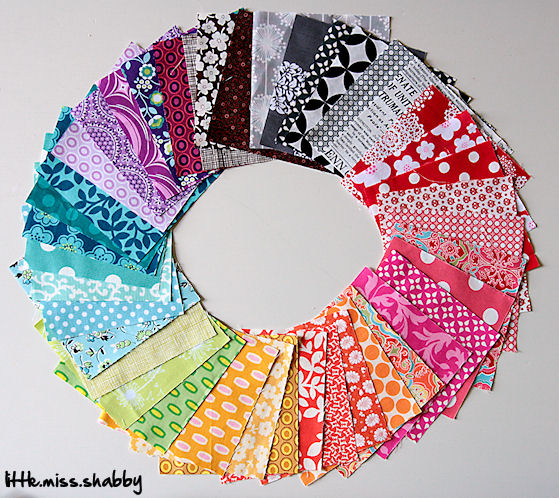 I actually began purchasing fabric before I ever touched a sewing machine or knew how to sew.
Now, as part of this blog hop, each chef was asked to share a recipe with you that corresponds to their assigned celebration.  Well, if you remember my celebration was wedding…and when we think wedding, we all think cake!  Well, as we learned earlier, I am soooo not a cake eater, however…I have a favorite cake…and it is one that is requested often to be made by my mom…it's an old family recipe for Oatmeal Cake.  Just thinking about the ooey gooey delight that is this cake, makes me want some. =)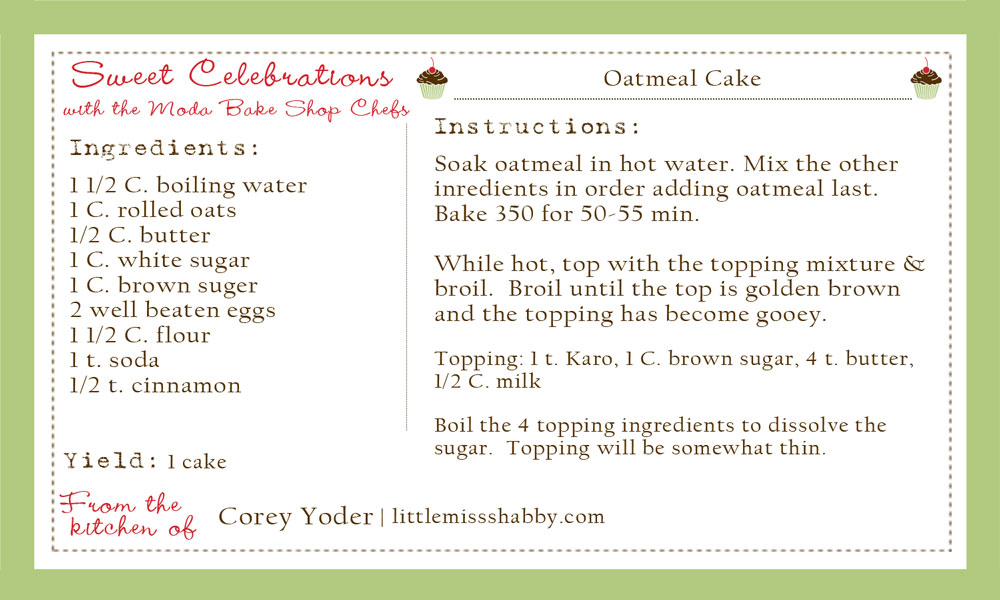 There you have it–a little bit of fluff about Little Miss Shabby–and now on to some more fun…
It's Giveaway Time!
To enter to win a copy of Sweet Celebrations and a Moda Fat 8th Bundle, just leave me a comment.
Comments are now Closed.
(*Note: Only entrants with U.S addresses are eligible to win the actual book.  Winners with addresses outside the U.S. will win the e-book version).
You have from now until October 14 to leave a comment–winners will be announced on October 19.
Be sure to hop along to all of the other chefs' blogs on the Blog Hop to enter to win a copy of the Sweet Celebrations book and some fantastic fabric.  You will be able to collect all of the yummy recipes on your hop as well. =)  A complete list of participating blogs is listed here.