Fusion Blanket Giveaway Kick Off!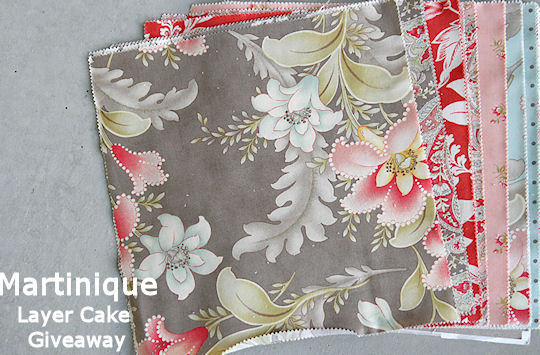 Today's the day folks!  My cohorts and I are kicking off the Fusion Blanket Crochet Along with some great giveaways. =)
If you remember in one of my posts I mentioned that a layer cake would work perfectly for this project…so, I am giving away one layer cake of Martinique by 3 Sisters for Moda.
Cindy and Deb will be co-hosting the Crochet Along and they are also hosting giveaways on their blogs.  So make sure to stop by their blogs for a chance to win more fun giveaways.
Also, make sure to join the Fusion Blanket Crochet Along Group on Flickr.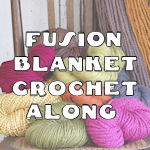 And you can snag the crochet along button from my sideabar for your blog.—>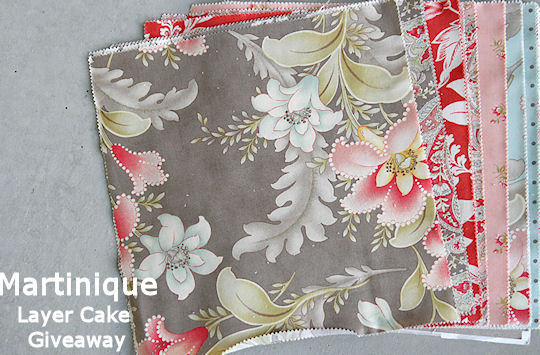 To enter my giveaway, just leave a comment on my blog.  Comments are now closed.
 Make sure to stop by Cindy & Deb's Blogs to enter the other giveaways!  The giveaway winners will be announced next Monday followed by the first Fusion Blanket Crochet Along post on Tuesday.
As a reminder, here are the project supply requirements
Charm Squares–You will need to decide how big you want your blanket to know how many charm squares you'll need.  My completed (crocheted) block measures 6.5″ square.  So, I'm thinking maybe 52″ x 65″(a nice throw size).  I will need 80 completed squares ( my blanket will be 8 squares x 10 squares) which means I'll need 160 charm squares.  The equivalent of 4 charm packs or 1 layer cake.

Yarn–I picked up 3 skeins.  I will need to purchase more as I go.  I am not concerned about the dye lot varying a bit.  If you are, make sure to purchase plenty of yarn, or purchase yarn without a dye lot.  You could also opt to use different colors of yarn.

Crochet Hook–Pick up the recommended crochet hook for the yarn you are using.  I am using a lighter weight yarn & the recommended hook is G which is what I purchased.

Perle Cotton or Crochet Thread–This is for the blanket stitch around the outside edge.  For my trial block I used 8 wt. Perle Cotton which works great.  For my Marmalade blanket I will be using Crochet Thread–it's a little bit more cost effective & I am all about that.
And of course, the original Fusion Blanket Pattern by Sewing Daisies.