Birdie Stitches Block #7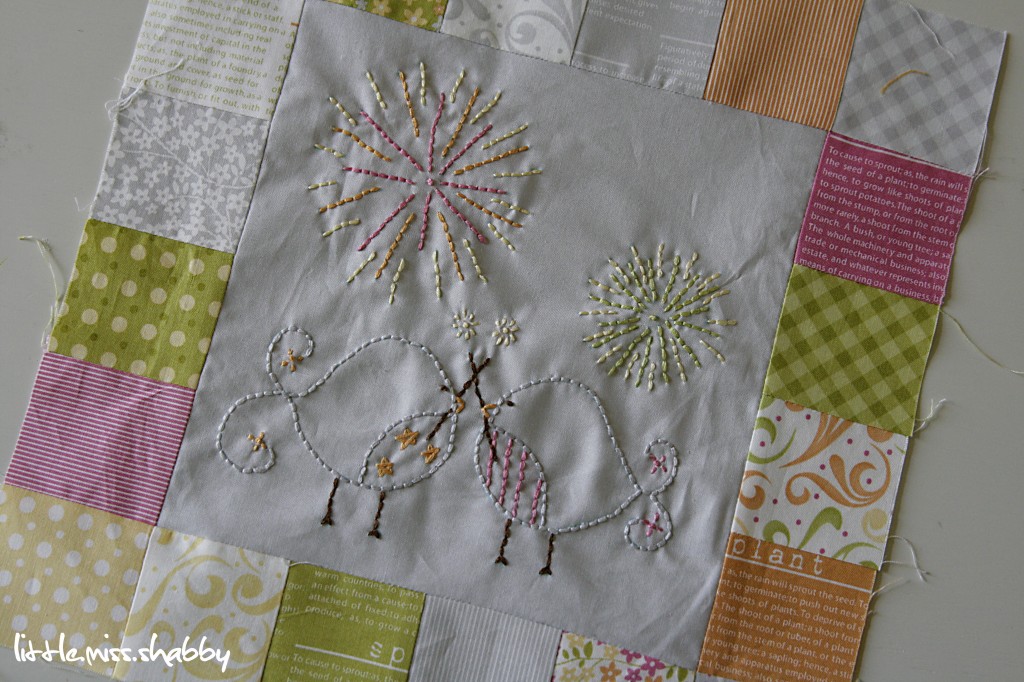 And the birdies are bringing in the 4th in style.=)  I hope you all have a lovely weekend as well—maybe a little stitching thrown in with the parties?
Block Construction(All blocks will be constructed in the same manner):
Center square: 8.5″ square
 Border Squares: (20) 2.5″ squares
I like to assemble the block before doing the embroidery work–it's just a little bit easier to hoop it up.  Sew together 2 sets of (4) 2.5″ squares–these strips will measure 8.5″long–sew one set to the top and bottom of the 8.5″ center square.  Sew the remaining 2.5″ squares into two sets of  6.  These will measure 12.5″ long–sew one strip on each side of the block.  And Voila! a 12.5″ square block all ready for embroidery.  You will find the embroidery pattern below in pdf format
(Note:  If you ever have trouble with the size your pattern is printing out at, be sure that your page scaling is set to "none' prior to printing)
A couple embroidery notes:  I used 3 strands of floss for the stars on the Birdies belly.  I used 6 strands of floss for everything else.  This pattern incorporates a simple back stitch and french knots.  Please note, as I used 6 strands of floss I only wrap the needle once for my french knots.  I used a water erasable marker to transfer the embroidery pattern onto my fabric–this was done after the block was assembled.
We have some stellar blocks over in the flickr group.  Be sure to add yours! =)